What is Microsoft SharePoint?
SharePoint is a cloud-based service developed by Microsoft that provides an enterprise collaboration, content management portal, which helps users to collaborate and share the data across the organization.  With the help of SharePoint, one can easily create a website for their internal use. It provides sufficient cloud storage to keep and share data, information, and other documents.
We can divide the SharePoint functionalities in three different areas.
Collaboration
Interoperability
Platform
Collaboration
SharePoint provides several tools that make the collaboration process run smoothly. It helps organization in bringing people together through collaboration features e.g., content management, web content management, finding the employees and their skills.
Interoperability
SharePoint also helps in collaboration through the ability to exchange and use information such as –
MS Office and cloud-based document integration
Providing the ability to develop and deploy secure and custom web-based solutions that integrate business data with SharePoint and Office applications.
Helping in integrating the complex web technologies and deploying the web-based applications to the cloud.
Platform
SharePoint is a highly secure and cloud-based platform which supports not only collaboration and interoperability but extensibility too. Extensibility ensures that whatever the solutions we are going to deploy on SharePoint is flexible and can be easily expanded. This feature increases the reusability of the existing solutions.
Key Components of SharePoint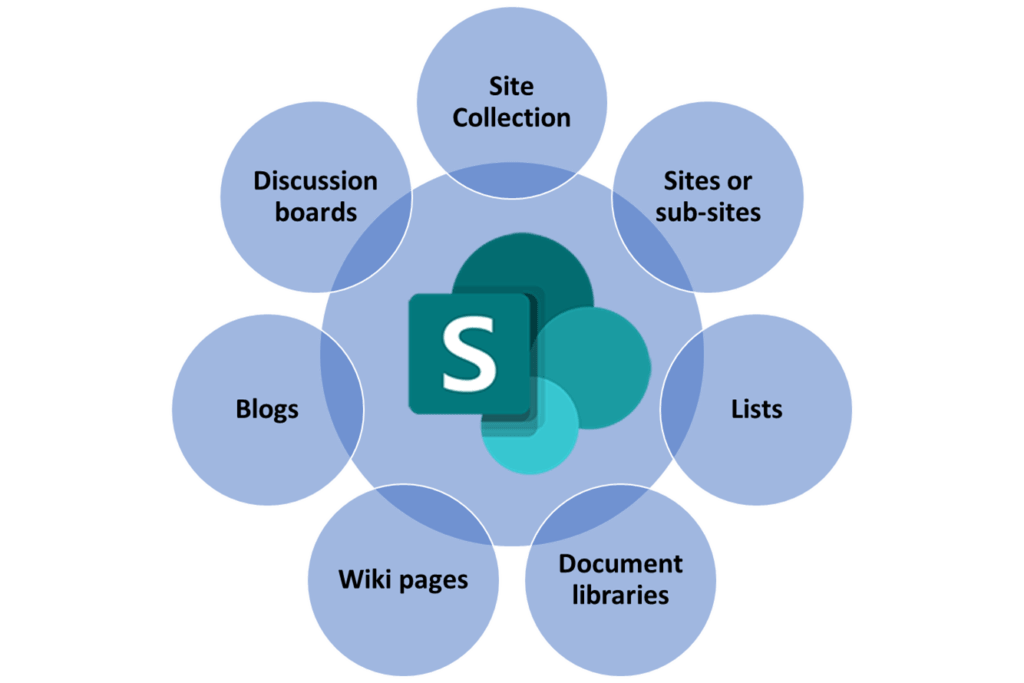 SharePoint has a massive number of functionalities. Going through all the terms and acronyms can be intimidating. Let's understand the key components of SharePoint.
Site Collection
A Site collection is SharePoint Server web application which has a parent site and all child sites below it. Site collection has its own security and backup settings. The number of site collections in a single web application solely depends on the capacity of the server infrastructure. Administrator can see and manage the entire site collection, including the the sub-sites too.
Sites or sub-sites
Sites or sub-sites are child sites within a site collection. By default, child sites inherit the permission settings from the parent site or site collection. The site admin can choose to stop inheriting the default permissions from site collection. Sites/Sub-sites can be designed and customized with a unique look and feel from other sites within the same site collection.
Lists
A SharePoint list is simply a collection of information and data like Excel spreadsheet or MS Access table. It has rows and columns to organize the data.  We can filter and sort the data same as Excel table. For example, you can create a SharePoint list to store the employee information like the first name, last name, email address, etc., SharePoint list can also be used to add attachments to a particular record.
Document libraries
A document library, internally a SharePoint list which has been designed to store documents rather than data in tabular format. It is a secure place where user can store files within SharePoint. Business users can save the files, find them easily, work on those files together, and access them from any of the devices and platforms at any time.  It enables document collaboration with real-time co-authoring functionalities which eliminates the requirement of storing multiple versions of the same files. It also provides the functionalities e.g., Add, edit, delete, access control, share and tracking the activities on a file or a folder.
Wiki pages
A wiki is a specialized site within a library in SharePoint that is designed for business users to collaborate and contribute content to the page. As the name implies (wiki means "quick" in Hawaiian), users can quickly capture and share ideas by creating simple pages and linking them together. Wikis can be scaled for use by a large-scale project to share huge volumes of information in an Enterprise wiki. Team site can be utilized as wiki on a small-scale project to gather and share ideas quickly about a project.
Blogs
SharePoint Blogs are site that contain lists & libraries. Blogs hold the same functionalities like any blog on the internet which are for communicating the ideas and information. The SharePoint blog can inherit the permissions from the parent site and admin can modify and manage the user access.
Discussion boards
The SharePoint discussion board allows people for online discussion withing the organization. It provides a forum to the users to engage in a discussion where they can post questions and answer which can be viewed throughout the organization. While both blogs & discussion boards serve as a platform for communication, the key difference is that a blog is built on a SharePoint site structure, while a discussion board simply is a SharePoint list.