How to use Business & Annual Leave Tracker?
In previous article, we discussed about Business & Annual Leave Tracker and how to customize the same as per your business requirement. In this post, we will focus on how to use this tool, apply leave and generate reports.
The usage of this tool has been divided into three different functionalities: 1. Plan 2. Summary 3. Database
On 'Home' sheet, you will find the below mentioned User Interface where there are three different buttons (Plan, Summary and Database).

To plan leave, just click on 'Plan' button available on 'Home' sheet. Once you will click on this button then it will show a form where you can select and enter the required details and apply leave. Let's see the form and then discuss the usage of this.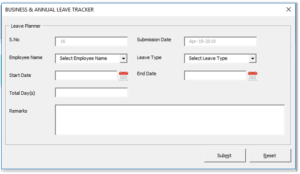 In this form, 'S.No', 'Submission Date' and 'Total Days' are auto-populated by tool itself. Please follow the below mentioned steps to enter the required details in form to apply leave(s).
Select the Employee Name and  Leave Type from the drop-down.
Select Start Date and End Date with the respective Calendar button available on form. Make sure, Start and End Date should not be past date. Also, Start Date should not be after the End Date and End Date should be before the Start Date.
Tool will automatically calculate the Total Days basis the date range updated in Start and End Date Text box. While calculating the number of days, it excludes Weekly Offs  and Public Holidays mentioned in 'Support' sheet if any of the date is falling between the date range provided in the form.
Enter the Remarks in remarks text box. This is option field and you can leave it blank.
Click on 'Submit' button to update the filled details to the 'Database' sheet.
Click on 'Reset' button to reset the form so that you can re-enter the correct details to apply leave(s).
Once you will fill the required information and submit the details then tool will update the data to the 'Database' sheet. It will exclude all those dates which are either Public Holidays or Weekends updated in 'Support' sheet. It will update only working days in 'Database' with selected Leave type, Employee Name, and Date ranges. After updated the data to the database, tool will refresh the report.
You can click on 'Summary' form to see the reports available on 'Summary' sheet. On 'Summary' sheet there is a button 'Refresh Report' to refresh the report if you want to update it with latest data which has been manually entered or modified in 'Database' sheet. Clicking on 'Home'  arrow button, you can jump to 'Home' sheet.
Click on 'Database' button to jump to 'Database' sheet.  Here, you can do manual entries or modify the existing records. Please make sure you update the correct details otherwise tool will not refresh the report correctly. On clicking on 'Home' arrow button you can jump to 'Home' sheet.